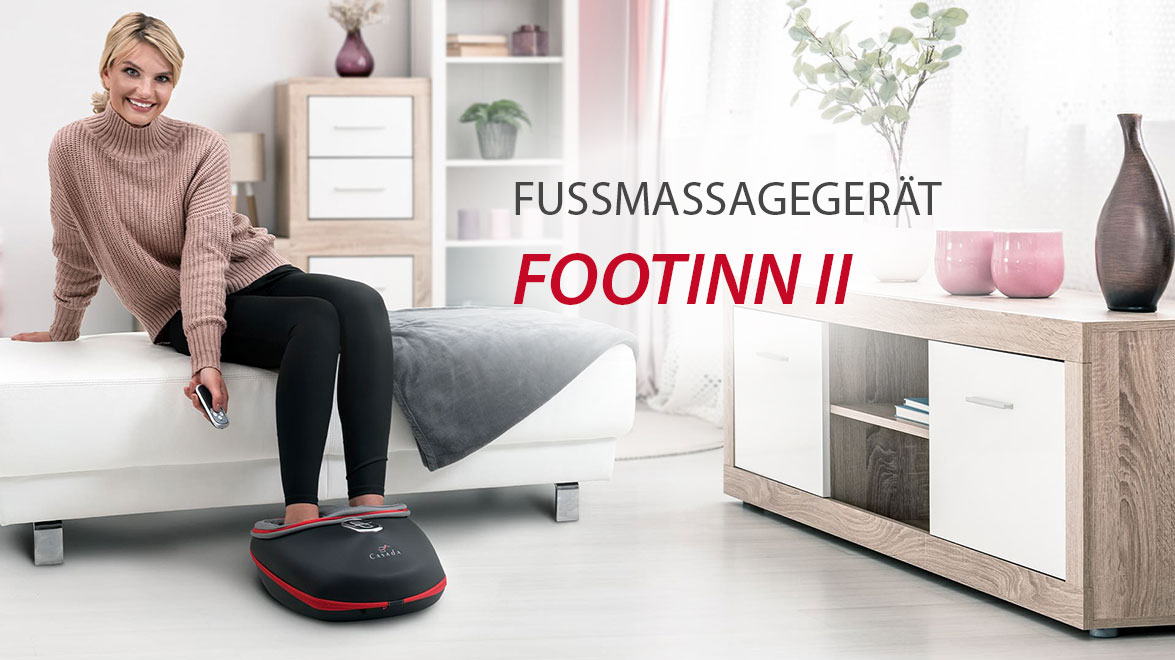 PRODUCT FEATURES
A great advantage of the FootInn II is not only the targeted revitalization of the feet but also the massage of the foot reflex zones, which has a positive effect on the well-being of the entire body. This results in the stimulation of the nerve endings that reach down to the soles of the feet, which has a beneficial effect on another part of the body. Thus, the FootInn II creates a wonderful wellness feeling for both the feet and many other areas of the body.
The FootInn II is shaped so that the feet are particularly comfortable in the foot sockets. In addition to the velvety soft inner lining, there are swelling and decongesting airbags to massage the foot and calf area with air pressure. The pumping movements generate muscle reflexes, which has a similar effect to acupressure. There are also special foot rollers in the FootInn II , which have a particularly stimulating effect on the foot reflex zones.
Besides the new design and the slightly improved form which has FootInn II compared to its predecessor on the heels massage, which works with other airbags and scooters and thus enables an extensive massage of the foot muscles.
Reflexology has the advantage over an all-body massage due to the fact that there are approx. 72,000 nerve endings of different endings. The more we care about the vitality of our feet, the better it is for our body: The feet are to be seen as a microsystem in which the whole organism is reflected and can be treated individually.
> Foot relax massage, relaxes the feet muscles, has a harmonizing effect on multiple body organs.
> Rotating vibration massage activates lymphatic drainage and circulation.
> Heating function relaxes with a deep effect.
FOOT REFLEX ZONES
The stimulation of the foot reflex zones affects the different organs in the body. The link gives you a detailed view of which area of ​​the foot is connected to which internal organ.
TECHNICAL DATA
Product : FootInn II
Dimensions : 36.5 x 35 x 18 cm
Weight : 2.9 kg
Voltage: Input : AC 100-240V 50/60Hz, 800 mA ; Output: DC 12V, 2000mA
Nominal Power : 24 watts
Runtime : 15 minutes